Welcome
Welcome To Dr. Widen's Cyber Gallery of Paintings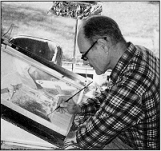 The online art gallery of the late Chicago Artist Dr. Bernard Widen (Wikipedia page).  Some of his paintings are for sale, please contact us if you are interested in any of the paintings.
If you are with an Art Gallery and like his work, please contact us to discuss exhibiting his artwork in your gallery.
Please email us for more information.
Thanks for visiting and have a great day!
Dr. Bernard Widen (1920-2017)